There is so much to start thinking about. As soon as Audrey came into the world, we were working on her development and education. The older she gets, the more we find ourselves talking about college, homeschooling, tutors, etc... It is mind boggling. Join in on the conversation and tell me what you think.
--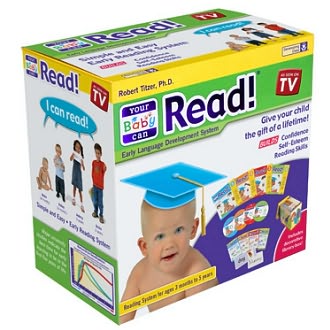 While my husband and I agree that Audrey probably won't start reading extra early from watching the videos, we don't find that having her watch a little bit at a time is harmful. She has learned waving, clapping and singing/dancing from the videos. That isn't a bad thing. But we do agree that television can be harmful when it is used as distraction. I am guilty of it, but trying my best to just have her watch the short 30 min. film every day or other day.
Another topic at large here in my town is homeschooling. Homeschooling wasn't too popular when I was growing up in the suburbs, but now with the poor educational system filling way too many children in the classroom and most of the time not living up to teaching our children what needs to be taught, homeschooling is booming. I know a number of children that were or are being homeschooled. They are all very intelligent and mature for their age. But the large responsibility falls on the parent teaching. I don't know how good I would be at that.
The only thing I argue against homeschooling is that the child is missing the social aspect (which for me, was a fundamental to the shaping of who I am today). Extra curricular activities, friendships, passing notes, watching games, makeups and breakups, the outfits and peer pressure. All those things I find vital to growing up.
Chris and I have talked about
charter schools.
We both love the idea. Basically a private school without the tuition. That is our favorite choice.
Other topic is tutoring. A number of private tutoring, test preparation and college planning companies have come about since my high school years. I took part in a program which assisted with those things, as well as assistance in getting scholarships. An example would be
StudyPoint
, which provides in-home, one-on-one tutoring for grades K-12, as well as test prep, free college information, etc... StudyPoint has been growing immensely with clients and all over the news including being one of
Inc.'s 5000 fastest growing companies for the last four years
.
I didn't have the best luck with the program that I did, but they were new then and it seems now parents are doing whatever they can to ensure a good education for their children (again, because they don't feel like their children are getting the one-on-one education they need).
That is what is in the topic hole for education. So many things to think about. We're not obsessing about having a genius child (OK, maybe just a little), but we want to provide the best education for her.