I never knew there was such a thing as a man store until I started dating Chris. The only mail he received besides bills were Cabela's catalogs.
Springfield, a city about an hour north from us, just opened a Cabela's. The excitement was fierce here in Oregon about Cabela's. Men who may not even hunt or fish were still thrilled about the Cabela's simply because it defines "man."
And this was all proven when my husband and I finally made the trip up north yesterday. I got to go to my stores and he got to go to Cabela's - and it seems that is how any wife got her husband out to shop that day.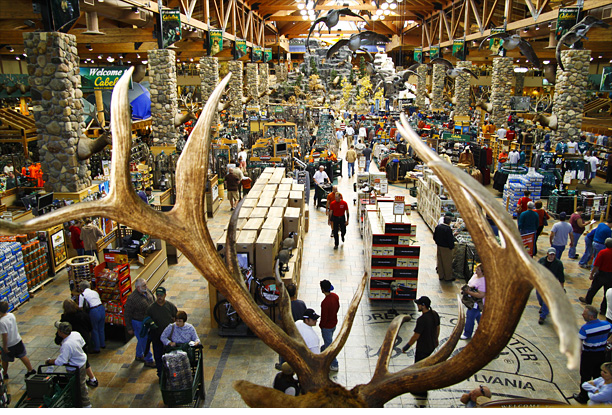 We walked inside and it was intoxicating how much this store defined my husband. The air was filled with testosterone. Stuffed deer and elk, moose heads, fishing poles, guns, bows and rows and rows of everything camo and plaid.
The store was packed and after awhile, I started seeing that most of the people were in the same boat as me. The women were toting around their Target and Macy's bags, carrying their kids, sticking their hips out with that look in their eye that says, "Please, get me out of here," or "No, we do not need another gun."
In my case, I was brought into the Gun Library to be reminded that only about a week before my husband met me, he was ready to buy the next gun for his collection. He showed me the price tag: $1,300. "It's so beautiful," he whined. "Umm, I'm pretty sure I'm more beautiful, and I give you sex."
Then again I was noticing all the families in a different light. These poor men were picking up these fishing poles and guns and remembering the "good ol' days" when they could a) afford it and b) have time to do it. Their kids are screaming and wives are going, "Come on! We have soccer practice!"
"Ahh, remember when you used to go fishing?" I said to my husband. "Ya, it was nice," he chuckled back.
For many men, the store is a dream world; a past lifetime.
"Maybe when you retire babe," I laughed.